There are two pages for exploring fractions: grids and pies.

On the grid page, you may switch between a big grid and a little grid by clicking the "change_grid" button. You may illustrate different fractions by clicking on a color to select it and fill a square. You may drag the small square to any location on the grid before clicking the color to fill another square.

This first image uses the big grid to show that 1/2 = 4/8.

This second image uses the little grid to show five different equivalent fractions:
1/3 = 4/12 . . . 2/5 = 4/10 . . . 3/4 = 6/8 . . . 1/2 = 2/4 . . . 1/2 = 3/6
On the pie page, you may switch between different numbers of pie slices by clicking anywhere in the circle. Each click on the pie changes the number of slices. You may choose any number of slices from 2 up to 12. When you have found the number of slices you want, click the "save_this_pie" button. Click on the turtle to change its color. Drag it where you want. Click the "fill_slice" button to fill that slice with the turtle's color.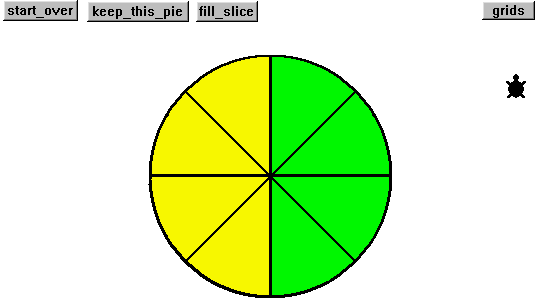 This image uses the pie slices to show that 1/2 equals 4/8.