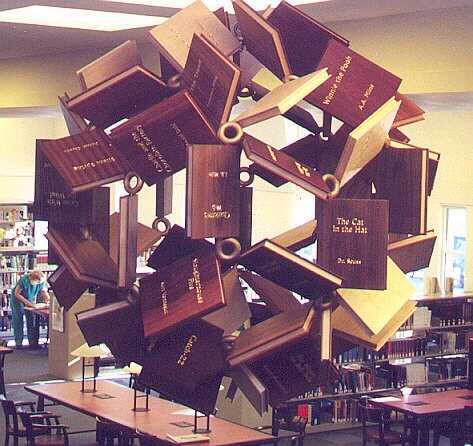 "Here is a picture of the finished project. It is called Millennium Bookball, and it is hanging in the Northport Public Library in Northport, New York. It is five feet across. There are 60 books with gold-leaf titles, and they are held together with 32 of the brass rings.

This was a community art project. The community selected what they considered to be the best books of the century, and they raised a good deal of the money for the project, and a lot of people in the community helped to assemble the sculpture. It was kind of like a barn-raising party to build the sculpture. Usually I design a sculpture with the intention that I could build it myself. I designed the bookball with the totally opposite intention, that I had to have a whole group of people.

Probably there were about 60 or 70 people at the assembly, when we built it, and there were probably another 20 people who helped me with the metal work, the carving of the writing, the gold-leafing, and the varnishing. A carpenter helped me with the cutting of the boards that had to be cut in a special way; he helped me with the planing; the foundry helped me with the doughnuts; my brother helped me in drilling the doughnuts. That is certainly one of my favorites for its community effect. So many people were involved with it that everybody knows me as the guy who made the bookball. I can be walking down the street and people will stop me and say, 'Oh, you're the guy who made the bookball!' It's nice to have that kind of recognition. There are a lot of artists in Northport, but it was very nice to be known for that sculpture."

You can learn more about the creation of this amazing sculpture on the Millennium Bookball page of George Hart's website.