After we left George, we made another stop at a special art exhibit at Cooper Union College in New York City to see more of George's artwork.
George calls this sculpture Whoville because it reminds him of Whoville in Dr. Seuss's book, Horton Hears a Who.

When we were at George's house, he had told us, "I'm very happy if somebody wants to touch my sculpture. That's the sign of a successful piece. It gets people engaged."
The Math Cats wanted to climb all over Whoville, but there was a museum guard nearby who didn't know that George had said it was fine to touch!!!
So we just looked.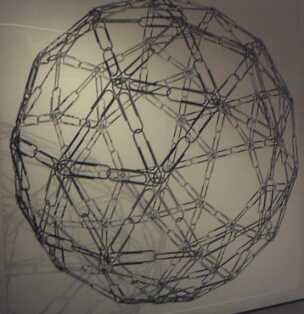 We just looked at this one, too. George had told us, "Some sculptures I plan extensively on the computer; others not at all. In some cases I can visualize it clearly and know what to do, so I don't need a computer model for anything. Sometimes I use the computer to calculate angles or lengths." But in this case, George designed and created the artwork entirely by computer. It is an enormous computer printout.
And then we really truly had to go home!
But we still have two ways of visiting George Hart whenever we want:
We (and you) can visit George through his wonderful website, georgehart.com. His website tells the story of many of his sculptures; he gives classroom project ideas and links to many other wonderful sites, and he has also created a gallery of more than 1,000 "virtual polyhedra" which you can rotate and zoom and study online. We can't keep away from it!
And guess what????

Mama Math Cat loved George's Leonardo Project so much that she bought it and brought it home!

Now the Math Cats get to play on it all day long.

"It's my turn on top!"
"No, my turn!!!"