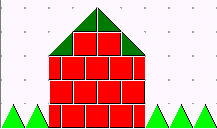 Hints:

* Build a brick wall using two blocks:

and

.
* Just for fun, make a tall house, then place a lot of blue drops

above the house and watch what happens when it "rains"!

Math Cats' OBBL Idea pages © copyright 2002 - by Wendy Petti of Math Cats. All Rights Reserved.